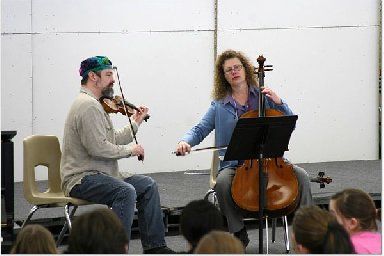 Randal Harrison performing at an informal recital with fellow improv clinician, Renata Bratt.
Education and Outreach Offerings:
• Master Classes/Ensembles
• Improvisation
• World Fiddle Styles
• Classical/Suzuki Pedagogy
• History of Violins in Jazz
• Sound Effects for Strings
• Motivating Your Student
• Improvisation for Teachers
Randal Harrison's workshops are hailed by college presidents and early childhood educators alike. Whether it's a master class in improvisation, a lecture on jazz violin history or an exploration of world fiddle stylings, Harrison keeps it fun, exciting and accessible while engaging ages 3 to 103.
"Thank you for lending your expertise to the Savannah College of Art and Design...the United Student Forum was flooded with complimentary remarks"
- Paula S. Rowan, Provost Savannah College of Art and Design
"Randal has become a regular at our weekend workshops. He has the knack of drawing out the potential of every child; even the shyest of students. Very professional, yet lots of fun for both the students and their parents."
-Carol Waldvogel North Shore Suzuki Strings Suzuki Association of the Americas-Board
Randal Harrison - Clinician Bio:
Randal Harrison is founder and director of the East Side Talent Education Association of Madison (ESTEAM). Randal grew up studying with Prof. Margery V. Aber, founder of the American Suzuki Institute (ASI). While attending the early years of ASI,  Harrison had master classes with Dr. Shinichi Suzuki and studied with America's pioneer Suzuki educators. As an adult he's worked with iconic jazz and avant-garde bassist Richard Davis, jazz violinist Matt Glaser and Suzuki Association of the Americas teacher trainers Pat D'Ercole and Michele Higa George.

Randal has taught classical violin studies, jazz improvisation and/or fiddle music at institutes and workshops throughout the the world, including: The American Suzuki Institute, The Singapore International String Conference, The Colorado Suzuki Institute, Northern Illinois University and, as visiting professor of Jazz History, at Savannah College of Art and Design. Harrison is a past president of the Suzuki Association of Wisconsin, an EMMY nominated composer and the recipient of the Madison Area Music Awards for Blues, Classical and Jazz Artist of the Year.
Contact: Randal Harrison (608)279-9856 mail@randalharrison.com